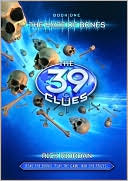 The Maze of Bones
by Rick Riordan
Similar to the set-up of
The Westing Game
, in which various people must solve a mystery in order to be chosen as the recipient of a fortune bequeathed in a will, here the members of the Cahill family are given the option of keeping $1,000,000 or forfeiting it in order to participate in the quest. Our protagonists, the orphan siblings Amy and Dan reluctantly decide to participate after deciding that their grandmother, the writer of the will, would have wanted them to do so.
The siblings soon find themselves the targets of their wealthy and powerful relatives, who all assume the kids have been given priviledged information by their grandmother before her death. Along with their au pair, they attempt to unravel the first clue before the others, which happens to center on Ben Franklin this volume.
While the first volume of
The 39 Clues
series provides entertaining fluff, the characters are all pretty static and stereotypical, from the Russian spy to the teen celebrity. Given that this is a corporate series with various authors, I expect that plot will remain more important than characterization for the duration.
The series has a website tie-in where kids can participate in the quest and solve clues, but a good deal of this is dependent upon the cards that come with the books (and are sold in additional packets). The books stand alone, and it really seems to me that this marketing ploy was an afterthought.
Grade: B-
Skeleton Creek
by Patrick Carman
In the first installment of the series, readers are introduced to high school students Ryan and Sarah, best friends whose parents have forbidden them from seeing each other after Ryan is injured while the two investigate a supposedly haunted mining dredge. Sarah becomes increasingly obsessed with the site, forming conspiracy theories about the town and its supposed secret societies. The two continue to communicate via e-mail and by the installment's end, Ryan and Sarah are investigating the site once again.
Presented as found evidence in the form of Ryan's journal, the best element of the series is the innovative use of video to tell the parts of the story from Sarah's perspective. The argument can be made that for the majority of the book it's not absolutely necessary to watch these clips, but the final scene is only available through the video component, so I recommend navigating between the text and videos as intended.
Again, the characters here are pretty flat. The mystery of the dredge is what drives the book forward, and the book would be pretty forgettable were it not for the video component.
Grade: C