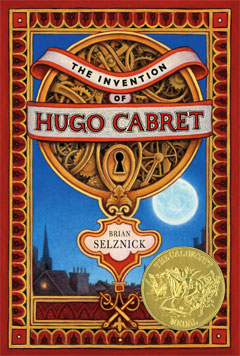 The Invention of Hugo Cabret
by Brian Selznick
Caldecott Medal 2008
,
National Book Award finalist 2007
Having wanted to read this book for a while after its release, I finally stumbled upon my chance last month at book club. One of my associates there had brought her copy to the club, hoping to spark interest in the upcoming film adaptation (directed by Martin Scorsese!) to be released this fall. Perhaps because I was sitting next to her, or perhaps because I was the first to speak of an interest in the book, I was able to borrow it.
Although the book is over 500 pages long, it's a graphic novel/prose hybrid, consisting of over 200 illustrations, so it's a fairly quick read. Being a children's novel, the prose is relatively simple, as well. Nevertheless, Brian Selznick's gorgeous illustrations are far more descriptive than any prose might have been, as it would have been difficult to truly convey the dreamlike quality of a number of scenes, especially those involving Papa Georges's pictures.
The plot at its most basic tells the story of a young boy, Hugo Cabret, who is living in a train station in Paris. His father, a clockmaker, died recently in a fire, and his uncle has disappeared. Everyday, Hugo tends to the clocks in the station so no one will realize his uncle has disappeared. Hugo also keeps an automaton in his room, as his father had been working on it prior to his death and Hugo hopes to repair the machine.
After Hugo is caught trying to steal a wind-up toy, his father's notebook pertaining to the automaton is confiscated by the old toy-seller, Papa Georges, but the man agrees to return it if Hugo works for him. As time passes, Hugo begins to uncover not only the secrets of the automaton, but of the strange old toy-seller.
Although the plot is fairly straightforward,
The Invention of Hugo Cabret
is a truly magical work. Why? Well, for me, it must be because at its core the book is about cinema, the people who create it, and the people who love it. And cinema is a world of dreams. It certainly helps that I am a terrible film geek and quite fond of early silent cinema, which is featured prominently in this book. However, I feel that anyone with a dream will adore this work.
Grade: A