Tales of the Madman Underground: An Historical Romance 1973
by John Barnes
Michael Printz Honor Book 2010
In John Barnes' debut YA novel (he's a Nebula nominated sci-fi author), he brilliantly recreates the first week of Karl Shoemaker's senior year of high school. Karl is an average kid living in an average midwest town (Lightsburg, OH, a fictional suburb of Toledo); however, he's been a member of a school therapy group, dubbed the Madman Underground, ever since his father died. But this year, he plans to avoid the therapy group and live as a normal teenager. Of course, this is much easier said than done.
At over five hundred pages,
Tales of the Madman Underground
truly dedicates itself to exploring this one week in Karl's life. Of course, in order to understand the impact of various events throughout this week, there are sundry flashbacks explaining why characters are in the Madman Underground. There's Paul, Karl's possibly gay best friend; Cheryl, the sexually abused cheerleader; Squid and Danny, two athletes with alcoholic fathers; and Marti, the new girl who's been to nearly every gifted school in the country and just wants a chance to be normal. Being outcasts, for the most part, the group does its best to help each other out, and given the nature of some of the kids' home-lives, aid is needed relatively frequently.
While the book is set in the early seventies, having grown up in a boring suburb of Pittsburgh in the new millennium, this still read like my high school experience. I knew a number of kids like the characters in this novel; our problems and entertainments were much the same as Barnes describes them. And, while I usually try to prevent myself from coloring my reviews with emotion, I feel that this novel worked so well because nearly everyone can relate to it. While it might have been a tad unrealistic to have so much happen in just one week, I appreciated Barnes' refusal to neatly tie up any loose ends and write a happy ending for our protagonist.
Grade: A-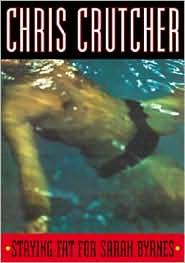 Staying Fat for Sarah Byrnes
by Chris Crutcher
While
Tales from the Madman Underground
is a semi-realistic portrayal of high school life,
Staying Fat for Sarah Bynes
reads more like an after-school special. The basic premise is that overweight swimmer Eric's best friend, the titular Sarah Byrnes, enters a catatonic state and is admitted to a mental ward. The two had bonded as kids due to their status as outcasts, as Sarah was horribly burned on her face and arms as a child and never received reconstructive surgery. Over the course of the novel, Eric discovers that Sarah's father has been abusing her and is forced to choose between telling an adult and losing Sarah's trust, or staying silent and possibly losing her completely.
While I enjoyed the oft snarky narrative of Eric, and the book did an excellent job of discussing sensitive issues like abortion with all sides accounted for, I feel the end of the book is completely unbelievable. A side character, who is barely present throughout the book, manages to intercept Mr. Byrnes, and the swim coach, who, while she has affection for Eric, barely knows Sarah, takes her in immediately. Had the ending not been so trite, I feel this novel would have been considerably stronger, but as it is, all of the work Crutcher puts into his characters is diminished by this happy ending.
I suppose it's a product of its time. I remember reading a number of novels in the 90s that had their respective protagonist surmounting unlikely obstacles. With a subject such as abuse, one can understand wanting the happy ending, especially when all too often, such endings never happen in reality, but if it had been curbed even slightly, it might have been more realistic. Despite its flawed ending, I still recommend this novel.
Grade: B+